Veg Puffs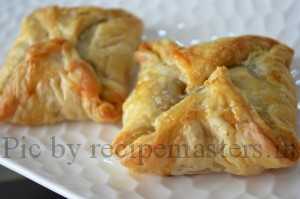 Click image to view picture gallery
rough puff pastry.">
Total Time:
Preparation Time:
5-10 mins
Cooking Time:
20-25 mins
Servings:
8

|
Easy and yummy snacks…veg puffs can be enjoyed anytime as a snack, its a good option for iftar recipe ..have made this using readymade puff pastries…if you wish to prepare the pastry at home here's the link rough puff pastry.
Required ingredients
Directions & How to
Take a puff pastry, put a spoonful of filling in the centre. Bring all the four corners to the centre and seal it well.
Repeat the same with as many pastries as you need.
Give each stuffed and folded puff a egg wash, place it on a tray lined with parchment paper and bake in a pre-heated oven at 180 C for around 15-20 minutes or until golden and crispy.
More similar recipes
Leave a comment below if you liked the recipe