Jelly Fruit Cream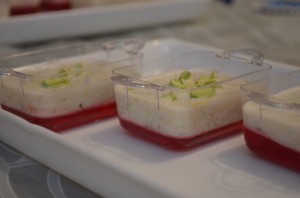 Click image to view picture gallery


[email protected]

">
Total Time:
Preparation Time:
10-15 mins
Cooking Time:
5 mins
Servings:
10-12

|
Jelly fruit cream, is a tasty and colorful dessert that will surely be loved by your kids. Make it for your kids party and see it enhance the beauty of your party table. Try and share your  feedback/photographs at [email protected]
Required ingredients
1 packet jelly - choose a flavor of your kids choice
1 cup fresh cream
2-3 tbsp sugar - or more or less as per your taste
1 Banana
1 Apple
15-20 Grapes
A tbsp of blanched and chopped pistachios for garnishing
Directions & How to
Prepare the jelly as per the instruction on its package. When it cools a little pour spoonful of it in small bowls/servers and leave it to set.
Meanwhile grate the apple and banana and finely chop the grapes. Alternatively chop all fruits together in an electric chopper.
In a large bowl take the cream, add sugar in it and whisk it well. Add chopped  fruits and mix well.
Once the jelly sets, put spoonful of fruit cream mixture in each bowl over the jelly. Garnish with some chopped pistachios.
Refrigerate it for 1-2 hours. Serve chilled.
*You can use fruits of your choice like mangoes, kiwis, strawberries etc.
More similar recipes
Leave a comment below if you liked the recipe