Choco Almonds
Total Time:
Preparation Time:
10-15 mins
Cooking Time:
2-5 mins
Servings:
8-10

|
Choco almonds are easy and yummy chocolate coated almonds. A fun way to enjoy almonds. Get your kids into making it and they will simply enjoy making it as well as eating it. Share your comments and feedback in comments section below.
Required ingredients
100 -120 grams chocolate- you can use cooking chocolate,  dark chocolate or even dairy milk
1/2 cup almonds
Sprinkles for garnishing
Directions & How to
Break the chocolate and place it in a microwave safe bowl and cook it for 2 minutes on high power or double boil it on your gas stove. Mix well once when melted.
 Dip the almonds in melted chocolate, coat it well and remove on a wax paper. (Dip  few almonds at a time or dip in batches to enable proper coating.) Sprinkle any colorful sprinkles on it and let it cool. Refrigerate it for 10-15 minutes.
Serve it when cool. Store it refrigerated in an air tight container.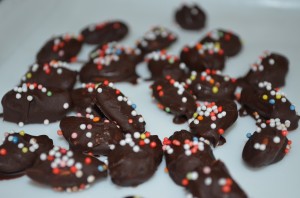 More similar recipes
Leave a comment below if you liked the recipe