Chicken Bell Pepper Soup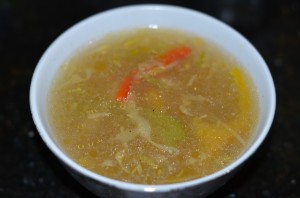 Click image to view picture gallery


[email protected]

">
Total Time:
Preparation Time:
10-15 mins
Cooking Time:
15-20 mins
Servings:
4

|
A very appetizing, nutritious  and colorful chicken bell pepper soup. I am sure, it will be liked by all on the dining table. Try and share your  feedback/photographs at [email protected]
Required ingredients
1 tbsp thinly cut strips of yellow bell pepper
1tbsp thinly cut strips of red bell pepper
1tbsp thinly cut strips of green bell pepper
1 tbsp shredded cabbage
1/4 cup boiled and shredded chicken
2 garlic cloves finely chopped
1 tbsp butter
¼ tsp white pepper powder
½ tsp vinegar
4-5 cups chicken stock
3 tbsp corn flour
Salt as per taste
Directions & How to
Heat butter in a pan, add garlic and fry for 30 seconds, add the peppers, cabbage and boiled and shredded chicken and fry it for a minute.
Add stock and simmer it for around 8-10 minutes.
Add salt, vinegar and pepper powder.
Mix corn flour in a little water and add it to the soup.
Simmer for another 5 minutes.
Check the seasoning once and serve it hot.
More similar recipes
Leave a comment below if you liked the recipe