Paratha envelopes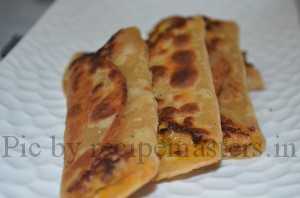 Click image to view picture gallery
fillings and toppings category for this recipe.">
Total Time:
Preparation Time:
20-25 mins
Cooking Time:
10-15 mins
Servings:
4-6

|
Similar to stuffed paratha, paratha envelopes are more fun to it and is a awesome food to pack while travelling or to carry for picnics or tiffin boxes. You can choose any filling of your choice from our fillings and toppings category for this recipe.
Required ingredients
Directions & How to
Take the cooked and cooled filling in a mixing bowl. Add the egg, mix well and keep aside.
Mix together flours and salt in a mixing bowl. Add oil and rub in the flour. Add water and knead smooth and pliable dough.  Cover and keep aside for 15 minutes.
Make 12-14 small smooth balls. Roll out thin chapatis and roast it lightly on both the sides, without using any oil.
Once you are done roasting all the rotis, start proceeding with the preparation of envelopes. On a flat surface take a roti, spread a little tomato sauce and a spoonful of the filling evenly over it.
Bring one end of the roti to the centre and cover it with the other end.
Follow the same with the remaining rotis.
Take a frying pan and shallow fry these envelopes till golden and crisp from both the sides.
Serve hot.
More similar recipes
Leave a comment below if you liked the recipe