Grilled Sandwich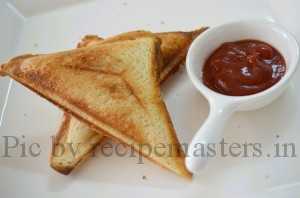 Click image to view picture gallery
fillings and toppings category and prepare different grilled sandwiches for your breakfast.">
Total Time:
Preparation Time:
10-15 mins
Cooking Time:
10-15 mins
Servings:
4-6

|
Nutritious grilled sandwich…follow the recipe of various quick and easy fillings from our fillings and toppings category and prepare different grilled sandwiches for your breakfast.
Required ingredients
8 slices or brown or white bread
Around one cup of cooked chicken spinach filling or filling of your choice
4 tbsp green chutney
4 tbsp melted butter
4 cheese slices
Directions & How to
Place 4 slices of bread on a flat surface, apply a little butter on each of them.
Place a cheese slice on each of the bread slice. Spread some filling evenly on it.
Apply the green chutney on the remaining bread slices.
Place these slices over the filled bread slices, chutnied side facing down. Press lightly. Place the sandwiches on the grill or sandwich maker and grill till golden and crisp.
Remove and serve hot with ketchup or chutney.
More similar recipes
Leave a comment below if you liked the recipe