Apple Pista Phirni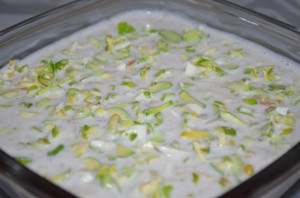 Click image to view picture gallery


[email protected]

">
Total Time:
Preparation Time:
10 mins
Cooking Time:
20-25 mins
Servings:
4-6

|
Apple pista phirni, is a tasty and easy to make dessert. Combination of apple, pista and whipped cream makes it more tastier and more creamier. So try out this recipe and hare your  feedback/photographs at [email protected]
Required ingredients
500 ml full cream milk
2 apples
1/4 - 1/2 cup pistachios - blanched and peeled
1/2 cup whipped cream
1/2 tsp vanilla extract
1 tin condensed milk
1tbsp clarified butter/ghee
A handful of chopped almonds and pistachios for garnishing
Directions & How to
Grind the pistachios to a smooth paste using little milk if required.
In a wok heat ghee or clarified butter, mix pistachios paste in it and cook it on a slow heat till it start leaving the sides of the pan. Remove it from the flame and let it cool.
In a thick bottom pan, bring milk to a boil, simmer it for around 5-6 minutes.
Meanwhile peel and grate the apples.
Transfer the milk to the wok, whisk it nicely till the pistachios paste dissolve in it, mix in grated apples and put it back on low heat.
Keep stirring it continuously and cook till it thickens.  This may take around 10 minutes.
Add condensed milk and cook it for another 5 minutes.
After it cools completely mix into it whipped cream.
Transfer it to a serving dish, and serve it garnished with chopped almonds and pistachios.
More similar recipes
Leave a comment below if you liked the recipe