Chicken Puffs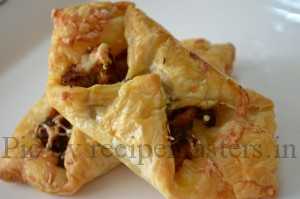 Click image to view picture gallery
rough puff pastry.">
Total Time:
Preparation Time:
10-12 mins
Cooking Time:
20-25 mins
Servings:
8-10

|
Easy and yummy snacks…chicken puffs can be enjoyed anytime as a snack, its a good option for iftar recipe ..have made this using readymade puff pastries…if you wish to prepare the pastry at home here's the link rough puff pastry.
Required ingredients
Directions & How to
Take a puff pastry, put a spoonful of filling in the centre. Sprinkle a little grated cheese if you wish to. Bring 2 corners to the centre and seal it well.
Repeat the same with as many pastries as you need.
Give each stuffed and folded puff a egg wash, place it on a tray lined with parchment paper and bake in a pre-heated oven at 180 C for around 15-20 minutes or until golden and crispy.
More similar recipes
Leave a comment below if you liked the recipe